Skip to Content
Safe Firearms Training in Fort Lauderdale, FL
Founders Shooting Club members have exclusive access to our state-of-the-art shooting range and training services in Fort Lauderdale, FL. As the area's leading gun club and shooting range, we provide every member with a VIP experience unlike anywhere else. The FSC instructors are the best in the business, have years of experience, hold top certifications, and have experience instructing civilian, police, military, and personal protection personnel. Our clean, safe, and comfortable indoor shooting range provides you with the perfect opportunity to improve your skills. Whether you're experienced with handling a firearm or have just begun your training, we can provide you with all the information and instruction necessary. Learn more about our firearms training and become a member to get started.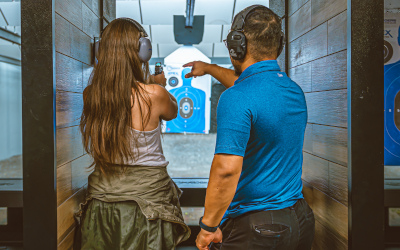 Firearm Instruction and More
Founders Shooting Club is the perfect location to hone your firearm skills. Our firing range is rated for most pistols and long gun calibers, so we can accommodate you no matter what you're interested in firing. We combined state-of-the-art technology and tried and true techniques to ensure you enjoy a safe and exciting experience when you choose us. In addition to firearm training, we also provide:
Tactical Training – Learn combat theory and how to meet particular challenges with specific skills.
Night Vision Training – Experience the excitement and challenge of firearm training while utilizing night vision technology.
Combat Training – Our professional trainers will create a combat-like experience for members.
Self-Defense Training – Learn how to protect yourself and your family if you're ever attacked by taking our self-defense training class.
Learn More About Our Instructors
At Founders Shooting Club, we want to provide every one of our members with the highest quality experience. Our knowledgeable and professionally trained instructors are comprised of retired and active-duty military and law enforcement officers. Their combined experience in the field provides our members with unparalleled insight into the proper operation and techniques for firearm training, combat training, and much more. They can assist advanced and novice members. We also offer women-only classes led by female instructors.
Luxury Gun Range in Fort Lauderdale, FL
Founders Shooting Club is available to provide our members with a luxurious and first-class experience. By combining the latest technology, clean and comfortable atmosphere, and like-minded members, you won't find an experience like this anywhere else in the area. Our team of licensed and professional trainers provides more than just firearm training. If you're looking for combat training and more, choose us. Find out how you can become a member today.
Interested in membership? Here are the key details:
Location: 5320 Powerline Road, Fort Lauderdale, FL
Initiation fee: One-time fee of $3,500
Dues: $199 per month
Includes: Unlimited use of the range with no lane fees and use of the other amenities in the club. Please see our FAQ page for answers to common questions.
Inquire About Membership
Limited memberships are available now.
Sign up today!