Skip to Content
Full-Size Squash Court in Fort Lauderdale, FL
Squash is quickly becoming one of the most popular sports throughout the country. Founders Shooting Club has one of the only squash courts available in Fort Lauderdale. Our members have exclusive access to our newly constructed squash court. Make a game of squash a weekly ritual with a few friends or hone your skills by joining our local squash league. Whether you're just learning the sport, or you've been playing for years, you'll love the experience in our full-size squash court.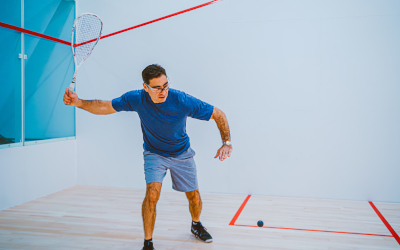 Learn the Rules of Squash
Squash is a racket and ball game played inside a small court with four walls. You can play in a one-on-one match or doubles, with four players on the court. The straightforward rules and relatively small area required to play have helped squash grow in popularity over the years. When you become a member, our team can help you better understand the rules as your skills progress. The typical rules of playing squash include:
Serve – One player serves the ball to the second player by placing one foot within the service box. The player then strikes the ball with the racket. The ball must land within the playable zone of the wall.
Play – Once the serve is established, the players take turns hitting the ball on the field of play. Once hitting the racket, the ball must not hit the floor before hitting the wall. A point is awarded when a player is unable to return the volley.
Scoring – Most squash games are played until one player scores 15. However, the winner must win by at least two points.
Start Playing a Game of Squash Today
At Founders Shooting Club, you can find squash players with various skills. Our goal is to cultivate a community, so we encourage all players to learn, teach, and grow their skills together. We welcome players of all skill levels to join. As one of the only squash courts in Fort Lauderdale, Florida, we can help improve your skills. Become a member today to use our squash court and our other amenities, including a health spa, members lounge, and firing range. Contact us today to get started.
Interested in membership? Here are the key details:
Location: 5320 Powerline Road, Fort Lauderdale, FL
Initiation fee: One-time fee of $3,500
Dues: $199 per month
Includes: Unlimited use of the range with no lane fees and use of the other amenities in the club. Please see our FAQ page for answers to common questions.
Inquire About Membership
Limited memberships are available now.
Sign up today!