Skip to Content
Innovative Shooting Range in Fort Lauderdale, FL
As Fort Lauderdale's premier gun club and shooting range, Founders Shooting Club provides members with unmatched convenience and comfort when they visit our range. Our 25-yard range is the most advanced in Florida. Touch screen retrieval systems feature options for distance, movement, and rotation. Your comfort is assured by our extended sound reduction stalls with multiple light settings and state-of-the-art air filtration systems with HEPA air filtration. We are committed to providing a safe facility for our members. We welcome both experienced marksmen and those new to shooting sports. Whether you're looking to spend time with friends or family enjoying a unique and exciting hobby or you want to hone your skills for hunting and self-defense, we offer unmatched convenience and quality.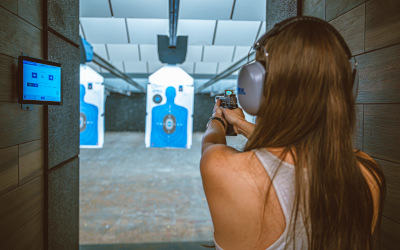 Discover Why We're the Premier Shooting Range
We offer our members a comfortable, exciting, and convenient way to enjoy our shooting range by integrating luxury features and safety standards that other ranges don't offer. These features ensure that you have a positive and safe experience while you're on the range. As one of the most advanced shooting ranges in the area, you'll enjoy our:
25-Yard Range – Our 25-yard indoor shooting range provides a challenge for novice and advanced shooters.
Sound Deadening Stalls – Each deluxe sound-deadening stall is designed for privacy, comfort, and safety.
Gun Rentals – Don't own a firearm? No problem! We offer on-site gun rentals. Browse our large selection of pistols, rifles, and more for your day on the range.
Electronic Target System – We've integrated a touch-screen control system to give our shooters total control of their shooting experience.
Self Service – Our self-service target and ammo station allows you to set the pace while you're in the shooting range.
HEPA Air Filter – We have a state-of-the-art air filtration system to provide shooters with a cleaner and safer experience.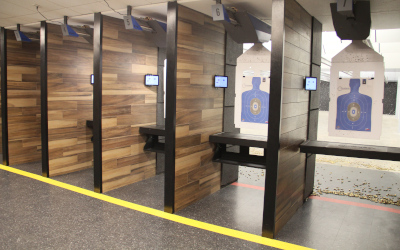 Experience Our Shooting Range for Yourself
Founders Shooting Club members enjoy numerous amenities, including a members lounge, health club, and state-of-the-art indoor shooting range. As one of the premier shooting ranges in Fort Lauderdale, Florida, it's been upgraded to include some of the latest safety and convenience features that allow you to enjoy your experience at your own pace. Our clean, private, and safe shooting range provides the perfect place to hone your firing skills and make memories with your colleagues. Learn more about how to become a member today to take advantage of our exciting range.
Interested in membership? Here are the key details:
Location: 5320 Powerline Road, Fort Lauderdale, FL
Initiation fee: One-time fee of $3,500
Dues: $199 per month
Includes: Unlimited use of the range with no lane fees and use of the other amenities in the club. Please see our FAQ page for answers to common questions.
Inquire About Membership
Limited memberships are available now.
Sign up today!