Skip to Content
Save $1,000 off of your initiation fee
Founders Shooting Club is an exclusive gun club and firing range in Fort Lauderdale, Florida. We provide our members with a wide range of amenities and features you won't find anywhere else. As a member, you'll be treated like a VIP whenever you join us. Our team is committed to providing an unforgettable experience for every member. Whether you're practicing on the firing range, working on your muscle-building plan in our health spa, or just relaxing in our lounge after a day at work, you can do so in comfort and luxury. Discover what it means to be a member at Founders Shooting Club.
Become a Member of Founders Shooting Club
If you're interested in becoming a member of Founders Shooting Club, now is the best chance to join us at a special price. Standard membership will consist of a $3500 initiation fee and a $199 monthly fee. We have a limited number of memberships available pre-opening with a discounted initiation fee of $2500. Only 50 discounted memberships will be sold. Reserve your membership today with a $500 deposit. Your deposit is fully refundable if you are unsatisfied with the club when it opens.
At Founders Shooting Club, we believe our club is a community and our members are family. We also believe there is nothing better than socializing with family, old friends, and making new friends. To help make this happen, Founders Shooting Club will be putting on exclusive club events ranging from guest speakers, chef dinners, tastings, and cigar dinners. There will always be something going on to keep our members' social calendar full!
Challenge Coin
Veterans and current members of the military may already be familiar with challenge coins. They were initially awarded to members of a unit in recognition of exceptional achievement or acts of bravery. Challenge coins are often symbolic and meaningful to those who have received them as gifts or symbols of camaraderie. The modern tradition began in Vietnam. An Army infantry bar was trying to keep non-infantrymen away by having "outsiders" buy drinks if they couldn't prove they had been in combat. Thus a "challenge" was issued to produce your coin or purchase drinks for the bar. If the challenge was successfully met with a coin, the challenger bought the drinks. This tradition continues today.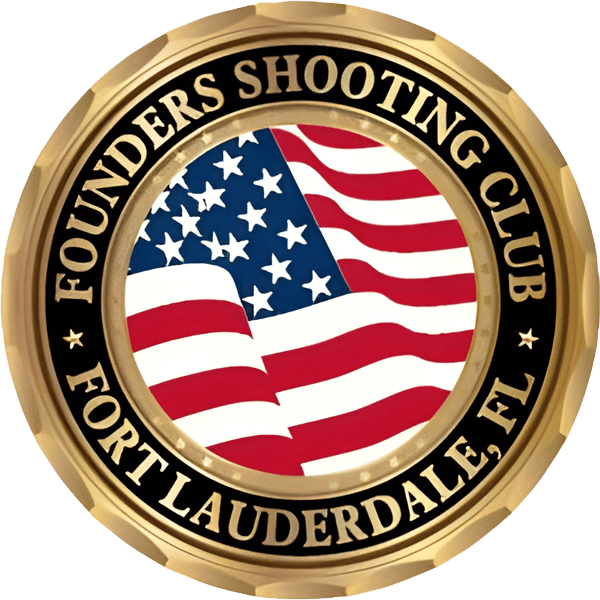 Inquire About Membership
If you're interested in enjoying all the luxury features and amenities available at Founders Shooting Club, then reserve your membership today. Our clean and exclusive club provides our members a place to relax while they take advantage of all the exciting activities, including our fire range, golf simulator, lounge, health club, and much more. We're dedicated to creating a community of like-minded individuals committed to excellence. Learn more today.
Interested in membership? Here are the key details:
Location: 5320 Powerline Road, Fort Lauderdale, FL
Initiation fee: $3,500 standard, discounted to $2,500 for the first 50 Members
Dues: $199 per month
Includes: Unlimited use of the range with no lane fees and use of the other amenities in the club. Please see our FAQ page for answers to common questions.
Inquire About Membership
Pre-Opening membership discounts available now. Save $1000 off your initiation fee.