Skip to Content
Professional Health Club in Fort Lauderdale, FL
In addition to shooting, we want you to be in the best shape of your life! Our health club has all the latest fitness equipment and tailored fitness services to improve your strength, grow muscle, and shed unwanted weight. Whether you're a workout enthusiast or just starting your weight loss journey, we can help you reach your goals. Our knowledgeable and licensed instructors can customize a routine that best suits your needs. Our locker room features individual lockers, steam showers, and private changing areas. After a hard workout, enjoy a refreshing beverage in our member lounge.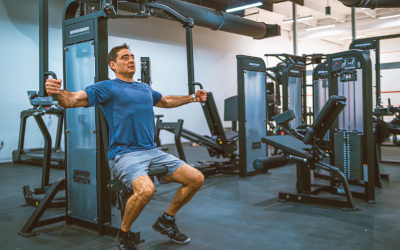 Discover More About the Features of Our Health Club
The health club at Founders Shooting Club has the luxury features you've come to expect while still delivering an excellent performance so you can work on the gains you've always wanted. We're dedicated to ensuring our members enjoy a clean and sanitary experience while working out at our gym. Learn more about why more people choose us for our private health club:
Professional Equipment – Having the right gym equipment is important to incorporate a full-body workout into your daily or weekly routine. Our high-quality gym equipment is easy to use and will activate specific muscle groups for the best results.
Locker Room – Our clean and sanitary locker room provides you the privacy you need during your pre-and post-workout.
Massage Treatments – After an intense workout, a professional massage can help loosen and relax your muscles to reduce and alleviate muscle soreness while increasing blood flow.
Steam Shower Stalls – Freshen up after your gym routine or squash game. Our spacious, luxurious, and clean steam shower stalls allow you to work out any time of the day.
Private Fitness Instructions – Do you feel like you've plateaued? Or maybe you don't know where to start in your weight loss journey. Our personal fitness instructors can tailor a gym routine to improve your health by balancing weightlifting and cardio exercises.
Discover How We Can Help You Achieve Your Goals
The health club at Founders Shooting Club in Fort Lauderdale, Florida offers members a wide range of exclusive amenities for them to improve their health through cardio and weight training. Whether you're just starting your fitness journey or want a new gym with high-end equipment, you're in the right place. However, we're more than just a health club. We also offer hair styling services so you can always look your best. Our professional and experienced team is here to help cultivate a community of like-minded individuals. Become a member today and take advantage of all the excellent amenities available.
Interested in membership? Here are the key details:
Location: 5320 Powerline Road, Fort Lauderdale, FL
Initiation fee: One-time fee of $3,500
Dues: $199 per month
Includes: Unlimited use of the range with no lane fees and use of the other amenities in the club. Please see our FAQ page for answers to common questions.
Inquire About Membership
Limited memberships are available now.
Sign up today!